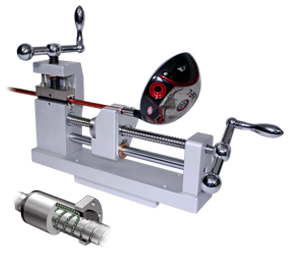 At afmontere et skaft med en connector er ikke noget problem med denne maskine da den har fjeder belastning.
Grafit skafter bliver heller ikke vredet i stykker ved afmontering.
Skrevet af Golfmechanix:
The Golfmechanix Progressive shaft extractor is a design engineered for maximum pulling power, with a low friction silky smooth stroking action, that provide positive feedback when extracting super light weight shafts and sophisticated shaft
adapters.