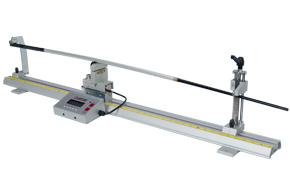 Dette er et fantastisk stykke værktøj.
Her har vi mulighed for at finde et skafts stærke side og svage side.
Dynamisk loft er vi ikke så interesseret i.
Så ved at tilføre den stærke side mod taget så mindsker vi det dynamiske loft.
Skrevet af Golfmechanix:
Detects shaft spine orientation and magnitude. Performs flex sorting, flex zone profiling, and flex matching. Functions and features too numerous to list. Includes RS-232 Software Kit and Shaft Rotation Dial Indicator.